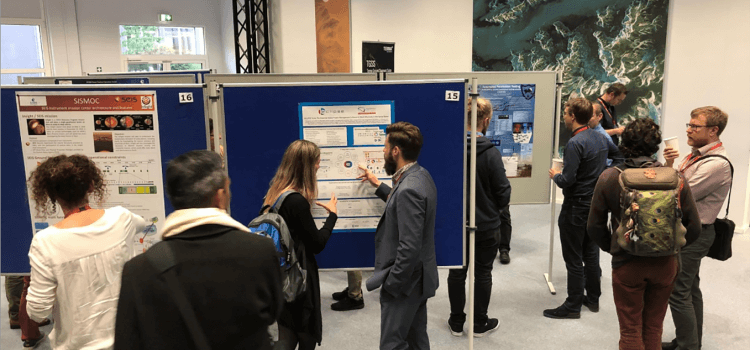 Sapienza at the 7th European Ground System Architecture Workshop
Our Implementation Consultant for ECLIPSE, Ross Irvine, and our Group Director for Workforce Services Solutions Operations, Adam Hazell, attended ESA's 7th European Ground System Architecture Workshop (ESAW2019). This biennial event was held at the European Space Operations Centre (ESOC) in Darmstadt, Germany.
ESAW is hosted by ESA to provide an international forum for systems architects to constructively exchange ideas and anticipate future technological trends on operations data system architecture. This year's event entitled 'Multi-Mission Architecture and Advancements in Operations Data Systems Benefitting the Community' hosted 28 posters, and more than 50 presentations.
The topics presented and discussed at the event covered all aspects of data systems relating to space operations, and especially collaboration and common solutions for space missions.
Another focus aimed to show how advanced software technologies enable new approaches, such as virtualisation, cloud computing, containerisation, microservices, software defined networks, big data, artificial intelligence, and machine learning.
Sapienza's representatives gained a valuable insight into interesting developments in this area and took the opportunity to showcase our competitive Space Project Management Software, the ECLIPSE Software Suite, to the European space community. Their presentation of our poster during the workshop, entitled 'Improving space project management, control and compliance to applicable standards' was well received.
Adam Hazell commented:
This was an excellent chance to reach out and discuss the potential of our ECLIPSE Software Suite with space organisations and institutes of varying sizes. Sapienza is confident that ECLIPSE – an integrated, dynamic software solution, can bring great benefits to the industry, and we are looking forward to welcoming even more customers alongside our main long-standing client, ESA.
To learn more about the ECLIPSE Software Suite and get in touch to request a free demo visit www.eclipsesuite.com.
Also, don't forget to follow us on LinkedIn to stay up to date with all the latest news and updates on ECLIPSE Software Suite.