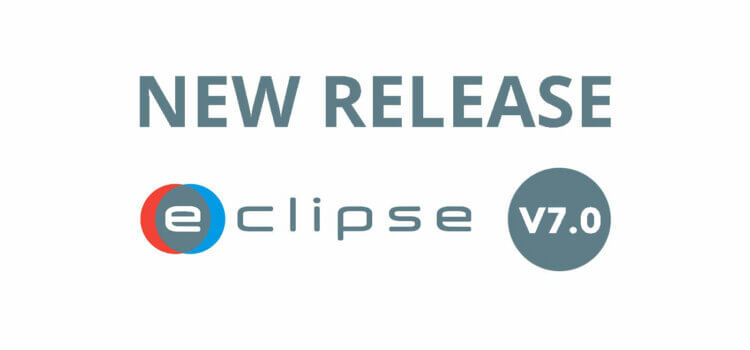 ECLIPSE Software Suite v7.0 Release is Out!
We are excited to announce our new release – ECLIPSE 7.0! ECLIPSE has been updated with features and improvements that we believe will help improve the working experience within the ECLIPSE suite.
The main new features include:
ECLIPSE access has been updated with the option to implement 2-Factor Authentication via email using the User's registered email in ECLIPSE. This adds an extra layer of Security to accessing ECLIPSE.
DCCM now has a new method of assigning Document Access with Viewer and Editor assignments directly on Documents. With these, a user can be assigned direct access to individual Documents outside of Folder Tree assignments. XLSX file support has also been added to DCCM. All Excel based features for Import/Export will now use the .xlsx file format. The MS Office file Editor feature has been updated to allow its use by a Reviewer during an ongoing Review cycle to update a Working File as part of their Review.
DAB has been updated with a new customisable Workflow for the Approval of Records. This allows for new options when configuring new Applications to meet the App's needs.
eRID has received a significant update on how Roles and Access can be configured for Reviews. To bring the module in line with the rest of the ECLIPSE modules, creating User Roles in PAM can now be configured with specific Privileges. Role assignments and Access to Reviews can now also be configured from the User Permissions menu in PAM.PAM has received updates to Roles and User Permissions options to administer the new eRID access management. It is also now possible to copy the structure of an existing Product Tree for use as the Folder Tree in DCCM within the same Project.
At ECLIPSE Suite, we continuously improve our software to provide the best possible experience for all our users and put the features you need to get your project to the next level.
Watch the video about our latest features here:
Our experts are available for a demonstration session that can be arranged for you and your User Community to explore the above and other latest features. Providing a first glance at the latest ECLIPSE features. Feel free to contact us.