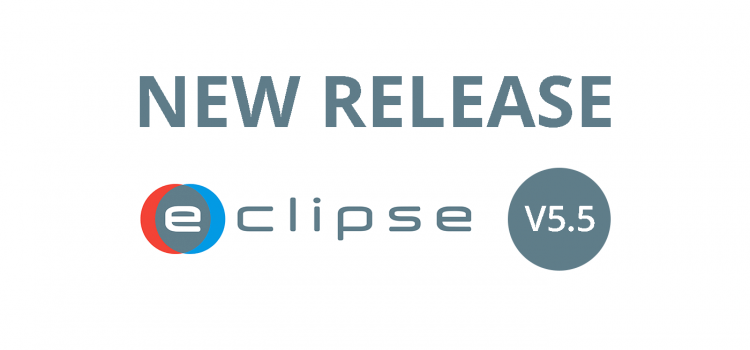 ECLIPSE Software Suite 5.5 release
We are glad to announce that our latest ECLIPSE Software Suite release, ECLIPSE 5.5, is out!
After ECLIPSE Suite 5.4 having brought useful changes to the user interface by incorporating automatic text extraction from PDF documents and auto-fill options among other time-saving features, this new 5.5 version is here not only to improve further the usability of the documentation recording but also to bring even more efficiency in the document management workflow capability.
The main new feature in this release is the introduction of a digital signature option for PDF files going through a Review/Approval Cycle with .
Once a document with a PDF Released File has been through a Review/Approval cycle, there is an option available to automatically generate a Signature Cover page, which shows a list of the Approvers, a timestamp for when it was approved, and a hyperlink to the document. This page can be previewed in a PDF viewer window directly within the ECLIPSE Suite and will automatically be attached to any PDF document which has been approved via the electronic approval workflow. In addition, there is also an option to replace the original PDF document with a new version, if needed, with this Cover page as the first page of the document.
The ability to sign documents electronically and remotely has never seemed more important than in today's climate. We believe that with this new feature we will bring great benefits to our user community:
Cost savings: With a digital signature sending paper documents is unnecessary. Therefore, any printing and delivery/shipping costs will be reduced. There will also be savings in other indirect costs such as filing, rekeying data, archiving, or tracking, as well as in the expenses related to the processing of confidential files.
The use of digital signatures will also help with cutting down on environmental waste as a consequence of the drastic reduction of the paper your organization will be using.
Workflow efficiency: managing and tracking the approval of documents will now be much easier and faster.
Increased security: The safety and security of your documentation workflow will be strengthened through traceable, time- and date-stamped e-signatures.
Remote working support: Thanks to digital signatures, documents can get signed almost instantly from anywhere using a tablet, phone, or computer; a fast and secure solution when working remotely.
In addition, this release is building upon the PDF text extraction feature when creating a new document that was added with 5.4 and is enabling PDF text extraction from existing documents when editing.
Are you an ECLIPSE Suite user and would like to get more information on how these new features can improve your ECLIPSE Suite user experience? Our experts are here to help! Contact them today.
Are you not an ECLIPSE Suite user yet, but considering trusting ECLIPSE Suite for your space project and mission management? Don't hesitate to arrange a free demo here.
To stay up-to-date with all the latest product news, follow the ECLIPSE Suite page on LinkedIn.