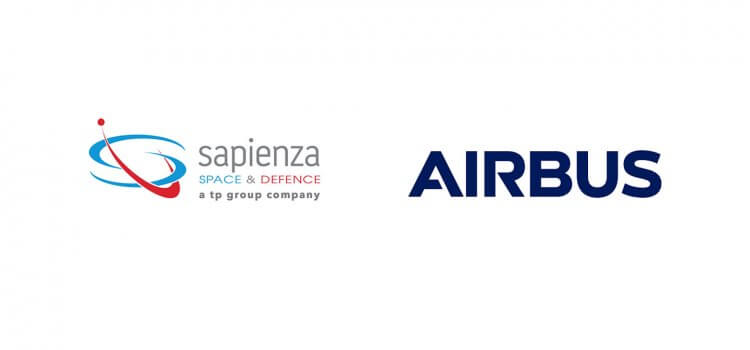 Sapienza Consulting Awarded 5 Years Contract by Airbus Defence and Space UK
Sapienza Consulting Ltd, a tpgroup plc company, today announces it has been awarded a 5-year contract to supply the ECLIPSE software suite and its professional services to Airbus Defence & Space in the UK.
Airbus Defence and Space has been a user of the ECLIPSE suite since 2014 with various contracts at their Friedrichshafen, Munich (Germany) and Toulouse (France) sites. The value of integrated process control the ECLIPSE suite has brought to their projects and programs was a major factor towards bringing the UK on board.
In particular, Airbus Defence and Space has chosen to take advantage of the Document Configuration & Change Management (DCCM), the Review Item Discrepancy (eRID), Action Items Manager (AIM) and Dash Board Reporting (DASH) modules to bring efficiency and control to their supply chain document management, milestone review processing and subsequent action management.
We are proud that Airbus Defence and Space has decided to expand on the usage of our ECLIPSE suite to their UK sites. Not only was Airbus Defence and Space one of our first ECLIPSE suite clients, but their expansive operations of the ECLIPSE suite show persistent faith in our products and supporting consultancy services. Additionally, we believe that Airbus Defence and Space usage of the ECLIPSE suite in the UK will be a great opportunity to showcase the ECLIPSE suite to their customers and partners in the growing UK space sector.
The ECLIPSE software suite helps space project and mission teams achieve higher efficiency. If better coordination, control and compliance with applicable quality standards are your goals, ECLIPSE is the tool for you. ECLIPSE is the only collaborative suite of integrated applications designed with the invaluable experience of space and defence industry professionals. The ECLIPSE suite is instrumental to the successful operations of numerous(Inter)national Space Agencies, Large Platform System Integrators and SMEs across Europe.
The Document Configuration and Change Management (DCCM) module allows members of a project to create a document, its reference, its applicability and status according to pre-defined user access rights and security rules.
The ECLIPSE Review Items of Discrepancy (eRID) module supports space project and mission teams through the preparation, set-up, management and control of formal project and mission reviews. The eRID module provides the means for space project review participants to access deliverable data packs, contractual or technical baselines, as well as requirements documentation online. The eRID module supports the complete approval and review process, and the assignment and management of related actions and the eventual closure of discrepancies (RIDs).
The ECLIPSE Action Items Manager (AIM) functions as a dashboard because it monitors and reports on all the workflow actions created by other ECLIPSE software suite modules. AIM provides its users with a centralised access point to all existing actions within a specific project environment.
The ECLIPSE Dashboard Manager (DASH) module Uses MS Excel standard reporting capabilities allowing users to create project specific dashboard customisable to users' needs. This provides users capability to analyse key data quickly for better decision making and production and review of KPI's to any project or program.
About Sapienza Consulting Group
Sapienza Consulting, part of tpgroup, is a leading European provider of Workforce Solutions Services and Technologies to demanding clients in high-tech, high-reliability and critical sectors such as Space, Defence and Security since 1994.
Our Workforce Solutions Services offer unique value to (inter)national organisations, as well as space, defence and security concerned companies. We have a rich and diversified Workforce Solutions Service portfolio that flexibly meets our clients' needs for temporary and long-term support consultants (with or without Security Clearance) and services offered on Work Package and Project basis.
For Media information contact:
Space Business Innovation Centre
Suite 100
Kapteynstraat 1
2201 BB
Noordwijk
The Netherlands
Tel: +31(0)71 407 6518
Fax: +31(0)71 407 6536
https://www.sapienzaconsulting.com/
https://www.eclipsesuite.com
 About tpgroup
tpgroup is a global professional services and technology partner with a unique end-to-end approach.
We have evolved as a company to deliver market-leading technology and professional services strategies that support our customers – whatever challenges lie ahead.
We have the agility and capability to respond to the next wave of technology with the team structure to work collaboratively – so we become an embedded and trusted partner to your organisation.
And our success in delivery is based on bringing in and developing the right people that understand your world – committed to helping you to achieve your vision.
About Airbus
At Airbus, our purpose is to improve life on Earth and beyond through our cutting-edge space technologies. With every technological breakthrough, we bring people closer together, we navigate new frontiers and we discover new and unexplored destinations. And we don't just take innovations to space – our space solutions and projects help solve global challenges on Earth.
But we don't stop there: we envisage a future where our human economy expands beyond Earth's orbit and everyone benefits from the value of space. Explore, discover, connect: together, we can make tomorrow more than just another day.