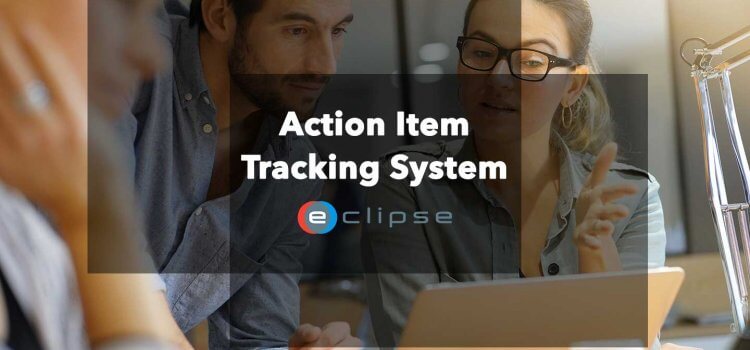 Action Item Tracking System: How to Manage Action Items
As a project manager, action items help you to manage a project. Effective and clear actions help to shorten the project and complete a mission quicker. An action item tracking system will help you manage tasks, determine the progress of the project, and provide data on resources spent. This article discusses the basics of action items, their properties, how to work through them, action item systems, their benefits, and frequently asked questions.
What are action items?
Action items are brief text descriptions of actions that need to be done to complete a project. Project managers often create action items and communicate them within their team. Big tasks are separated into smaller tasks and given to team members, who need to take action. The team can carry out the activities in parallel, which helps to complete the bigger task faster. Action items help team members progress focus on one task at a time. The more complicated the job is, the more essential action items become.
Properties of action items?
While you can already call a simple task list an action item list, characteristics that will make your action items more effective are:
Time-bound: An action item should include a due date. Adding due dates to action items sets expectations and helps managers and team members to stay on track. If an action item is not time-bound, it may be challenging to determine the overall project timeline.
Specific: When you need to create many action items, sometimes people neglect a proper description of the task. A specific description is essential because it makes the action item unambiguous. If a task is too broad, break it into more action items.
Assigned: Most project managers agree that giving an owner for each task/action item is a must. Transferring ownership helps with accountability and makes people feel responsible, autonomous, and important.
When you create action items, keep these properties in mind. This way, managing the project and assigning the action item to the person will be done more efficiently, keeping your project on track.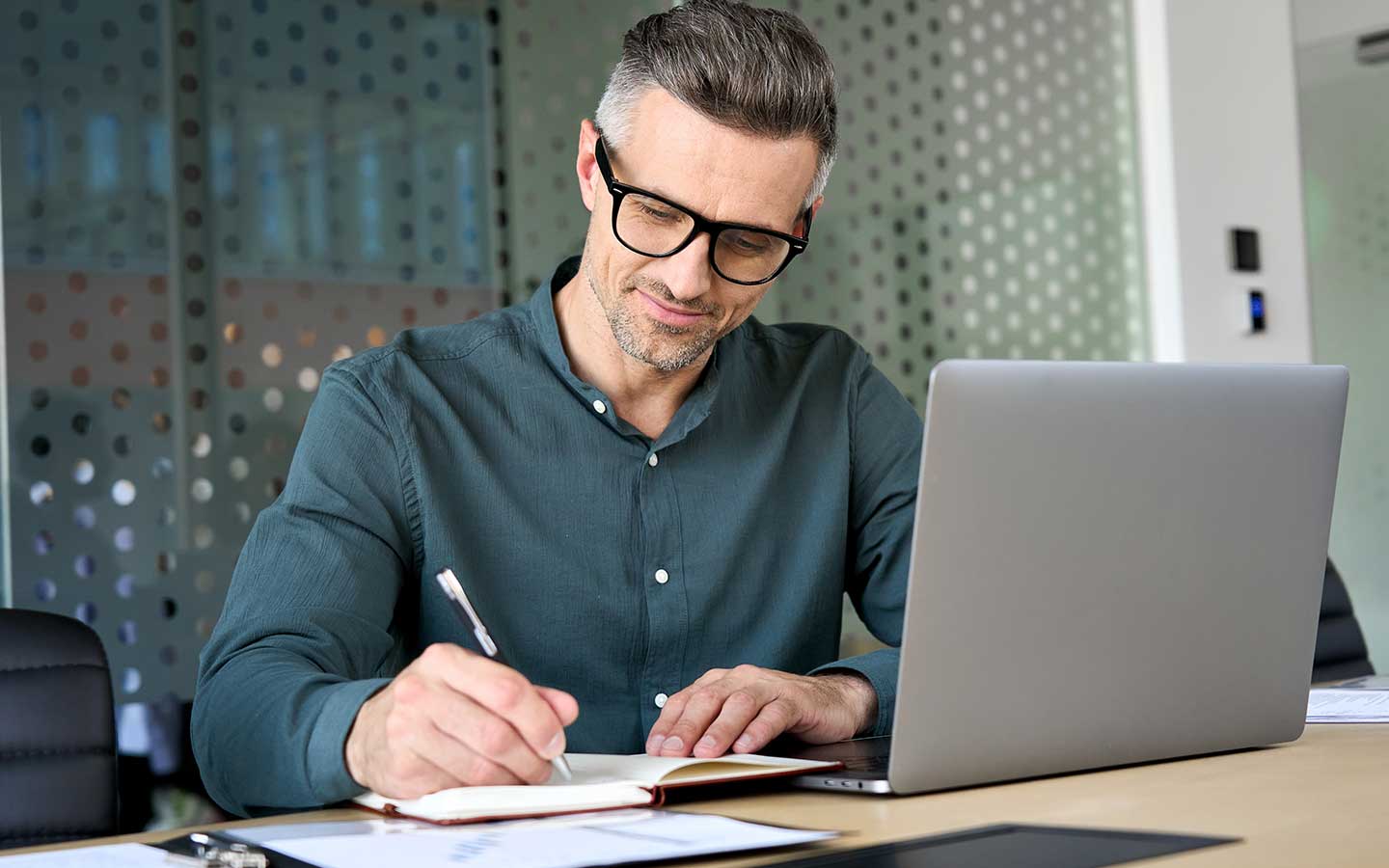 What are the ways to work through action items?
When setting up a work process for a project, you can work through action items in two main ways. You can choose to work with an importance-based method, order-based method, difficulty-based method, or a combination of all three. These methods represent a high-level view of how you will manage your project from start to finish.
Importance based method:
With this method, the team will complete essential tasks first. The importance-based method will often manage the expectations of the stakeholders. Working on the "musts" firsts will help project managers to determine if the team can reach a milestone.
Order based method:
In this method, the team works on the actions items in the received order. By using this method, you can focus on one action at a time and don't have to switch actions. However, the order-based technique can slow progress. Because sometimes the team will work on nonessential activities first
Difficulty based method:
With the difficulty-based method, you rank items based on the difficulty of the activity. Using this method, you will complete easier tasks before difficult tasks. With this quick win-based method, the team will see progress within a project, motivating them. However, it is possible to lose sight of the essential parts of a project.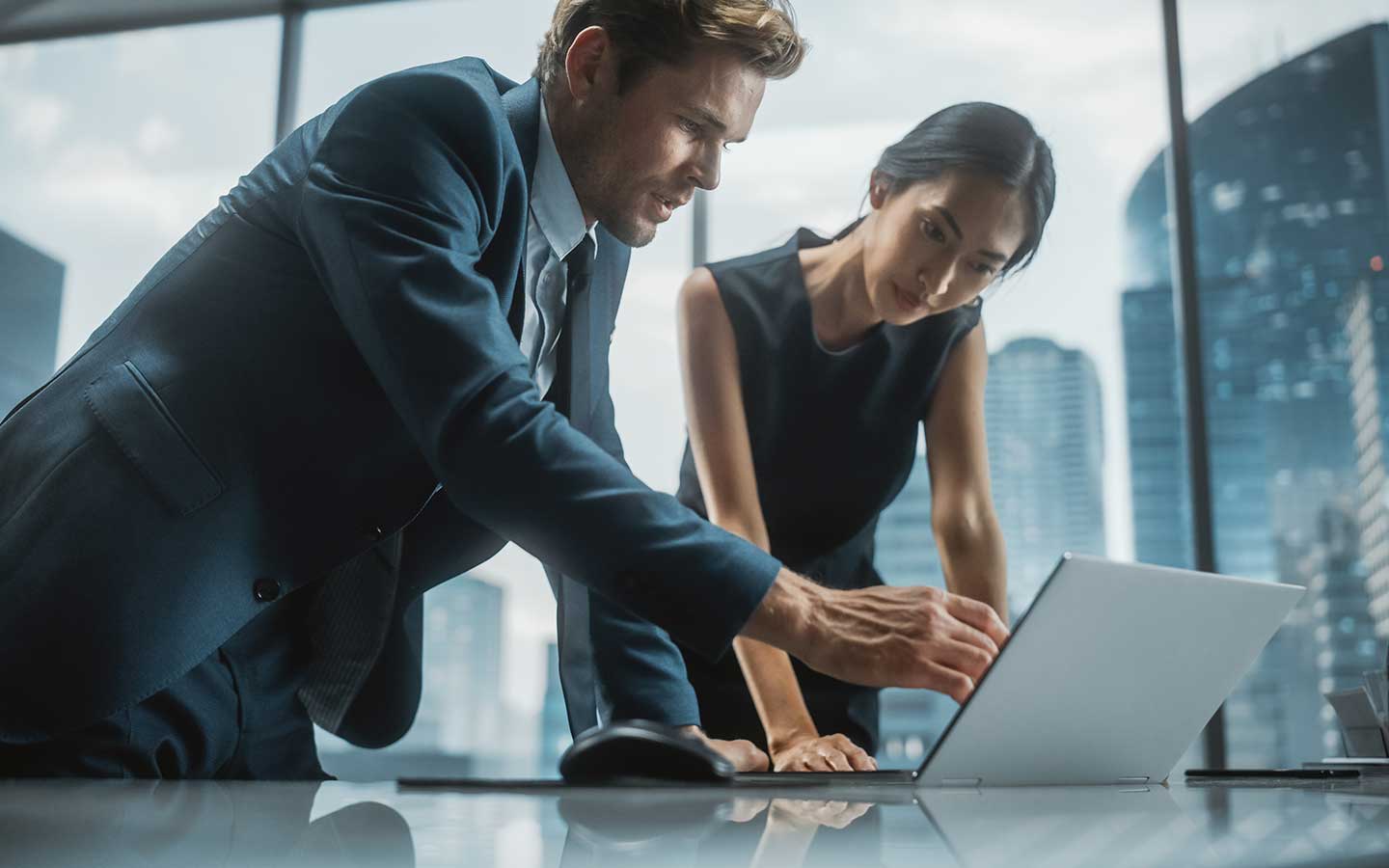 What is an action item tracking system?
An action item tracking system is a central control panel that manages all the actions items involved in a project. It lets you get a clear picture of the project where everything is listed correctly and as effectively as possible. It also allows to finish a project quicker and enables team members to focus on the task and not the project.
What are the benefits of an action items tracking system?
An action item tracking system has a lot of benefits over tracking your action items on a piece of paper or in a spreadsheet:
Minimal effort to create action items
Friendly user interface
Organize action items
Overview of the entire project for project managers
Leave comments around actions
Security and management around access to actions
Actions get a unique reference number
Priority management
Action items template
Manage team and individual tasks
Awareness around progress and completion of tasks
Manage alerts around actions
Integration with other project management software
Minimal effort to create action items
While creating tasks may seem simple, there are many things to consider when creating an action item, such as the description, deadline, and priority. Action items need to be created before they can be assigned, and this usually takes a few minutes for each task. If you have a large project with hundreds of action items, creating each one can take a lot of time. When creating action items through an action items tracking system, you will never forget these characteristics, plus you would only have to fill out the necessary information once.
Friendly user interface
When setting up your task list, you don't want it to be complicated and hard to understand. Look for a system that has a user-friendly interface so your team members will not get confused when navigating through the application. This will save time and allow you and your team to quickly find anything they need in one place.
Organize action items
With an action items tracking system, you can organize your tasks by project and priority. As a project manager or team player, you should always stay updated on the project's progress. Seeing all your action items and projects in one place will improve your ability to manage your time effectively.
Overview of the entire project for project managers
Project managers have to consider many different factors when working with a team. Keeping up with all of this information can be difficult, but you will have everything there for you with an action items tracking system. You can get an overview of your whole project, which will show if any deadlines are at risk or your team's status. It is also possible to create reports, graphs, and charts to analyze things from different perspectives.
Leave comments around actions
When managing multiple projects and communicating via email or in meetings, there may be too much communication to keep track of. Linking emails and meetings to action items can get messy and leave a lot of tasks untouched without an action item tracking system. When you use action tracking software, you can easily leave comments around actions to support each other on the action. Next to this, with comments, you can exchange important information securely. For example, you can attach files, create follow-ups, and document the minutes of meetings.

Security and management around access to actions
Security around a project is essential, especially for technology and government projects. A system to manage your action items will help you manage who has access, is doing what, and when they have opened a task. Lost action items are also a common occurrence which you can avoid by using a system to manage your actions.
Actions get a unique reference number
Every action in the action item list will have a unique number. A unique reference number will help you easily find any action item. Unique reference numbers allow you to keep an overview of all actions and prevent you from getting confused.
Priority management
When you have a simple to-do list, the management of priorities is often a headache. An action items tracking system will help you ensure all actions are assigned a priority level. A priority system will save your team time deciding which activity is the most important for the project. They can find it in the list by sorting for priority.
Action items template
An action items template can be attached to each action item. This template can consist of different forms and sections like the reference number, responsible person, task description, progress status, etc. The template will make it faster to create tasks, and you will know that all the right information is inside the action item.

Manage team and individual tasks
With a click of a button, you can send actions to teams or individuals, and you can see what the statuses are. This will help you stay on top of your team's performance and prevent anyone from not knowing their tasks for the day.
Awareness around progress and completion of tasks
Tracking project progress is essential for any project manager. You can get reports on the status of all action items and projects in your action items tracking system. You can use charts to see how many tasks are completed daily or weekly for more visibility.
Manage alerts around actions
You won't get any notifications when someone changes an online spreadsheet, which can lead to information loss, missed deadlines, incomplete action items, and more. With an alerts system, you can get notified when someone leaves a comment on your actions or changes their status. You can customize the settings for each action item to let the notifications come through to the right people at the right time. With an alert system, you will update everybody when you do something—preventing anything important from falling through the cracks.
Integration with other project management software
Having proper action item lists set up is not the only important thing within a project. Other information such as reviews, inventory management, partner communication, updated dashboards, and reports are also essential. With our software to track action items, you can link the action items to these other systems. This way, you will have all the information about your project in one place instead of going through different software to see everything that's going on with your projects.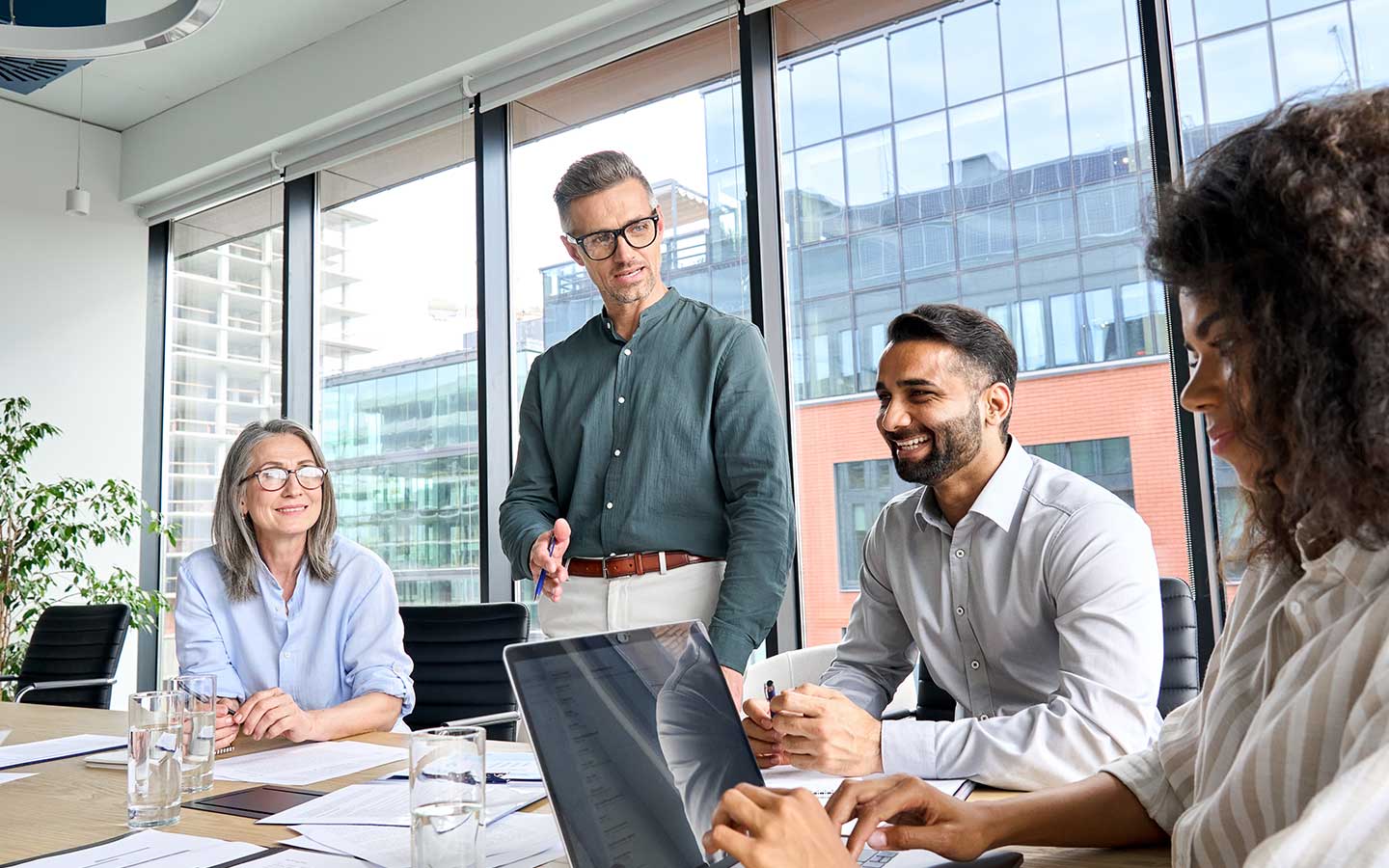 Frequently asked questions on action items tracking
Below you can find some frequently asked questions about action items and action item tracking systems:
What is an action item tracking system?
An action item tracking system is a web application or internally hosted system that automatically records individual team members' time spent on each task. In this way, you can track a team's progress and determine who has completed what tasks and how long it took them to complete them.
What is the difference between to-do lists and action items?
You can use an actions list to track progress. To-do lists are great for managing tasks but lack the specificity required to determine project status accurately.
When do I need an action item tracking system?
An action item tracking system is best used on larger projects where multiple team members work together to accomplish specific goals.
Choose an Action Item Tracking System that has it all
Tracking action items is essential to managing a project correctly. That's why we have developed the ECLIPSE Software Suite. Our AIM Module will allow you to track your projects and their assets without a problem. This software can track everything from action items to reviews, inventory, and more.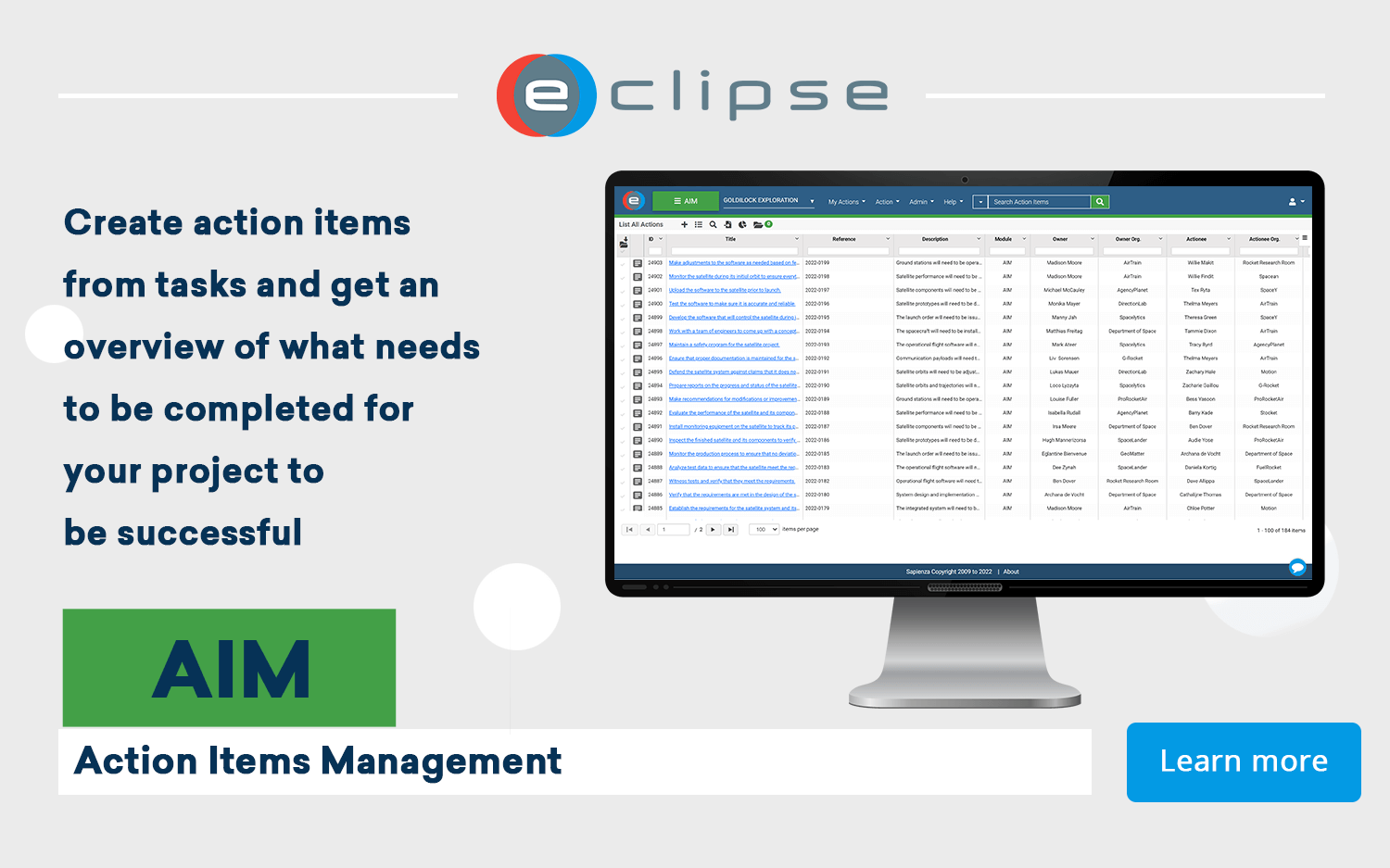 We have a free version you can test with a team. Contact us today, and we will be more than happy to answer any questions and set you up with everything you need.