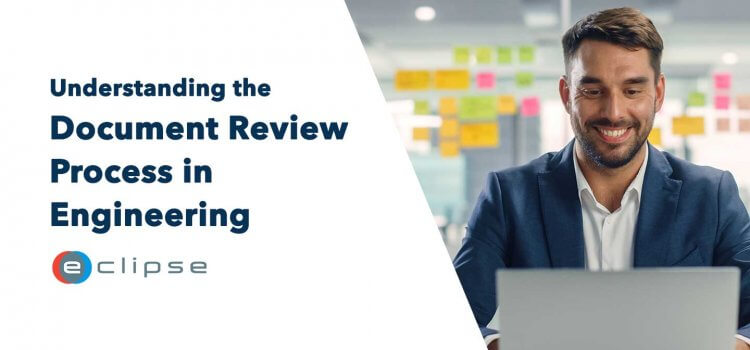 Document Review: Meaning, Purpose, and More
When working on a project, you want to be sure you have accurate data and are working on the set requirements. If you are working with documents in a project, the document review process is essential for accurately assessing your project data. An extensive document review can be stressful, but if your documents are approved, you can be confident and happy that your project is on track! Learn more in this article about document reviews.
What is a document review?
A document review is a crucial part of the engineering process. It is the process of checking and verifying documents for accuracy. An organisation can do document reviews for various reasons, such as to ensure compliance with regulations, check the quality of work, or verify the progress.
Document reviews can be described as a type of quality assurance of documents, and they can be an essential part of meeting compliance and requirements. The goal is to improve the quality of the documents by catching errors and improving clarity.
Organisations can do document reviews informally or as part of a formal process. Formal document review processes usually have specific guidelines that an organisation must follow. Informal document reviews are often less structured and may not have specific guidelines. However, they can still be beneficial in finding errors and improving clarity.
Typical options in a document review are:
The document is approved: You are satisfied with the document, and no changes are needed.
The documents need changes: You are not happy with the document and require changes before you can approve it.
The document is voided/rejected: You are not satisfied, the document is inaccurate, and you cannot be used.
Several levels of document review
There can also be several levels of document review, for example :
Peer-to-peer review – this is when someone else in the same field as you reviews your document
Managerial review – this is when your manager or another senior member of staff reviews your document
Client review – this is when the client or customer who has commissioned the work reviews the document
Regulatory review – this is a review by an external body, such as a government agency that reviews the document to check that it meets its standards.
Teams often stage several reviews in a row to avoid wasting high-level reviewers' time with issues that can be solved on a lower level.
What is the purpose of a document review?
Document reviews allow engineers to catch errors and ensure that the final product will meet all the required specifications. By checking for mistakes early on, document reviews can save time and money in the long run.
Document review can be necessary to:
ensure accuracy in your project data
check for completeness of documentation
verify that the documentation meets the requirements of your project
ensure that the documentation is compliant with standards
By ensuring that all documents are accurate; errors, accidents, and extra costs can be prevented.
What type of organisations uses document reviews?
Document reviews are often necessary for organisations in industries that are heavily regulated. When qualifications and safety are on the line, it is essential to have a document review process in place.
Industries that often use document reviews include:
Aerospace and Space
Automotive
Construction
Manufacturing
Oil and gas
Pharmaceuticals
Power generation
Telecommunications
Transportation
Products in these industries require a high level of reliability and accuracy, and therefore any errors or deviations could have serious consequences. Governments have regulations, quality standards, and other requirements to help ensure the safety of products and users. Document reviews help ensure that all documents meet requirements before the next phase.
Document reviews can also be helpful in other less regulated industries. There may be less need for absolute precision in these industries, but document reviews can still help ensure quality and safety.
Who performs a document review?
The document review is either done by the organisation's customer or an organisation's internal team. They are the most familiar with the product or project and will have the best understanding of what is required.
When should a document review be performed?
Document reviews are typically done at various stages throughout the engineering project. The following are reasons to perform a document review:
After the initial requirements have been gathered and before the start of the design process
After the completion of the design and before starting the manufacturing process
After the manufacturing process is complete and before the product is shipped to the customer
Any time there are changes to the design of the product
Whenever there are new versions or revisions of documents
Whenever there is a change in the team members working on the project
Whenever there is a change in the organisation or company policy that could affect the project
At any other time when it is deemed necessary by the team
Why is document review software important for engineers?
Reviewing documents is an essential part of the engineering process. At every stage of a project, from initial feasibility studies to construction documents, engineers need to be able to quickly assess and provide feedback on a wide variety of documents. For this reason, document review software has become an indispensable tool for engineering firms.
The best document review software should meet the specific needs of the engineers working with it. It should allow for easy collaboration between team members, traceability of documents, provide a clear and concise interface for reviewing documents, and support a wide range of file types.
Important features of a document review software are:
Cloud-based
Integrated with email
Version control
Annotation tools
Collaboration features
Workflow management
Secure and encrypted
In addition, the best document review software is constantly evolving to keep pace with the latest engineering trends and technologies. By investing in document review software, engineering firms can ensure that their team has the tools to perform at their best.
What software can I use for document reviews?
ECLIPSE's Software Suite offers two types of document review modules, namely DCCM and eRID. These software modules contain the important features that engineers require.
What does DCCM do?
ECLIPSE's DCCM (Document Configuration and Change Management) is a document management system that allows for the reviewing and revising of documents. The module allows you to identify, manage and collaborate on any errors or inaccuracies within your documents. You can use this software to change your documents with a high level of security and traceability.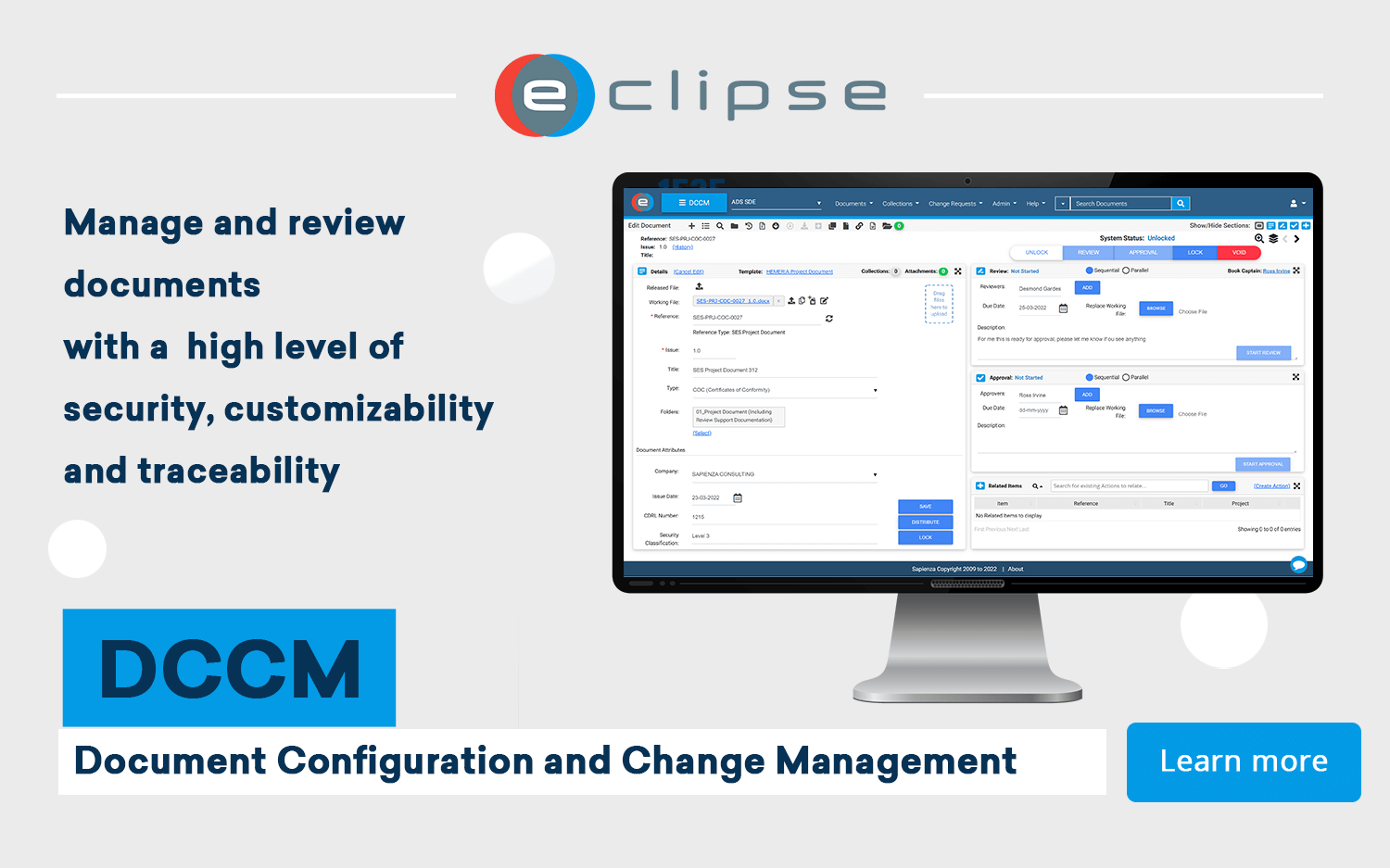 What does eRID do?
ECLIPSE's eRID (Review Items of Discrepancy) is a data management system used to conduct formal reviews. This application allows users to prepare, set up, manage, and control large formal project reviews. Formal project reviews are used to ensure the client that the project is going as planned and that there are no errors or discrepancies. With eRID, you can review large data packs and ensure your client accepts the project before moving to the next stage.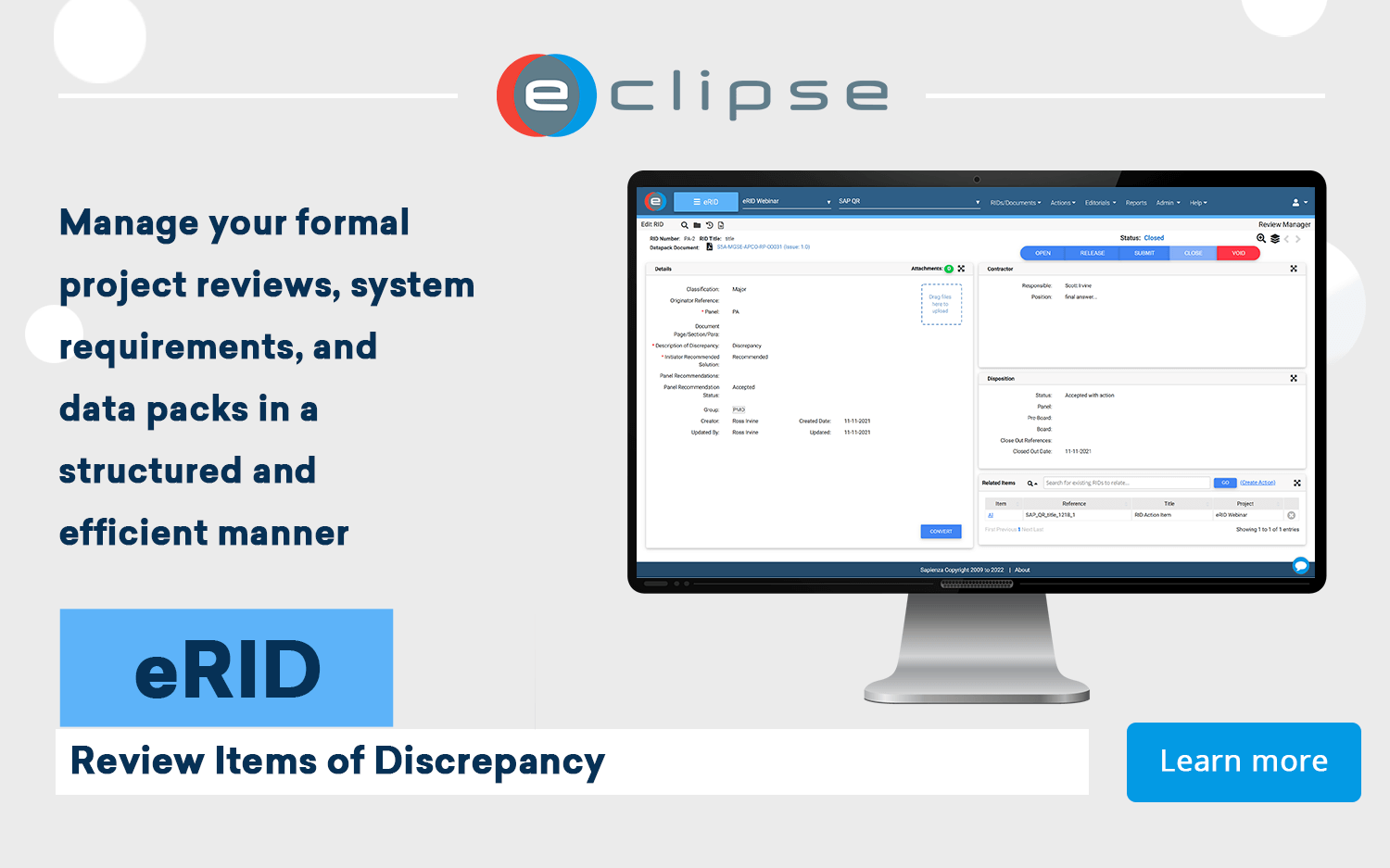 Improve your document review process with ECLIPSE
If you want to enhance your document reviews, ECLIPSE Software Suite can help. Our experts can help you select the right software for your needs and provide training and support to ensure that you are getting the most out of your investment. Contact us today to learn more.