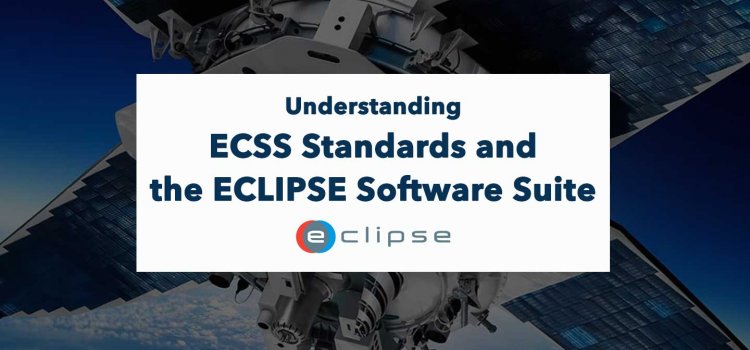 ECSS Standards and the ECLIPSE Software Suite
If you work in the Space Industry, complying with ECSS Standards can be essential. In this post, we speak on ECSS Standards and how the ECLIPSE Software Suite can help make the compliance process more manageable for you.
What are the ECSS Standards?
The European Cooperation for Space Standardization (ECSS) is a set of standards that define processes, documentation, and quality assurance requirements for space systems. The standards were formed by collaborating with the European Space Agency, the European space industry, and several space agencies.
Why do you need to be compliant?
To work within the European space industry for clients such as ESA or to bid on contracts, your company must demonstrate compliance with the ECSS Standards.
The standards ensure the agencies adhere to a common set of processes and quality assurance requirements, which helps to reduce the risk of costly problems during development and operations.
Who are the members of ECSS?
Members that can require you to be compliant with ECSS include:
Agenzia Spaziale Italiana (ASI)
UK Space Agency
Centre National d'Etudes Spatiales (CNES)
Deutsches Zentrum fuer Luft- und Raumfahrt (DLR)
European Space Agency (ESA)
Netherlands Space Office (NSO)
Norwegian Space Agency (NOSA)
Eurospace
Canadian Space Agency (CSA)
CEN-CENELEC
EUMETSAT
European Commission (EC)
European Defence Agency (EDA)
Companies might also require you to work with ECSS Standards. Because of this, it is important to consult with your customer to see if they have any specific requirements for compliance.
What are the benefits of ECSS compliance?
ECSS compliance is important because it ensures that all space systems are developed and operated according to the same high-quality standards set by your partners in the European space industry. This helps prevent compatibility issues and ensures that spacecraft and satellites can work together seamlessly and be trusted.
Other benefits of being compliant with ECSS standards include:
Improved safety of space systems
Reduced development and operational costs
Increased schedule certainty
Improved reliability and performance of space systems
What are the disciplines within ECSS standards?
The ECSS Standards are a broad set of documents that define requirements and processes for space systems. The branches include space project management, space product assurance, space engineering, and space sustainability.
Space project management
The ECSS space project management branch is responsible for the initiation, planning, execution, and termination of space projects. It covers topics such as project planning, cost and schedule, configuration and information management, and organisation and conduct of reviews.
Space product assurance
The ECSS space product assurance branch sets requirements to ensure that space products meet their specified performance, safety, and quality requirements. This includes quality assurance, safety assurance, failure modes effects and criticality analysis, and non-conformance control.
Space engineering
The ECSS space engineering branch covers the design, development, production, and operation of space systems. It includes system engineering, software engineering, electrical engineering, mechanical engineering, and optical engineering requirements.
Space sustainability
The ECSS space sustainability branch sets requirements for the long-term operation of space infrastructure. This includes topics such as debris management and planetary protection.
What is the ECLIPSE Software Suite?
The ECLIPSE Software Suite is a software solution that enables companies to meet ECSS compliance. The Suite includes tools for non-conformance management, document management and change control, action management, discrepancy management, and risk management.
How does ECLIPSE Software Suite enable ECSS compliance?
ECLIPSE Software Suite helps companies meet ECSS compliance by providing a set of tools that set a structure to manage processes and requirements that are up to ECSS Standards. This way it reduces the risk of costly errors and ensures that all systems are developed and operated according to the ECSS standards. Below is a table of how the Suite meets specific requirements: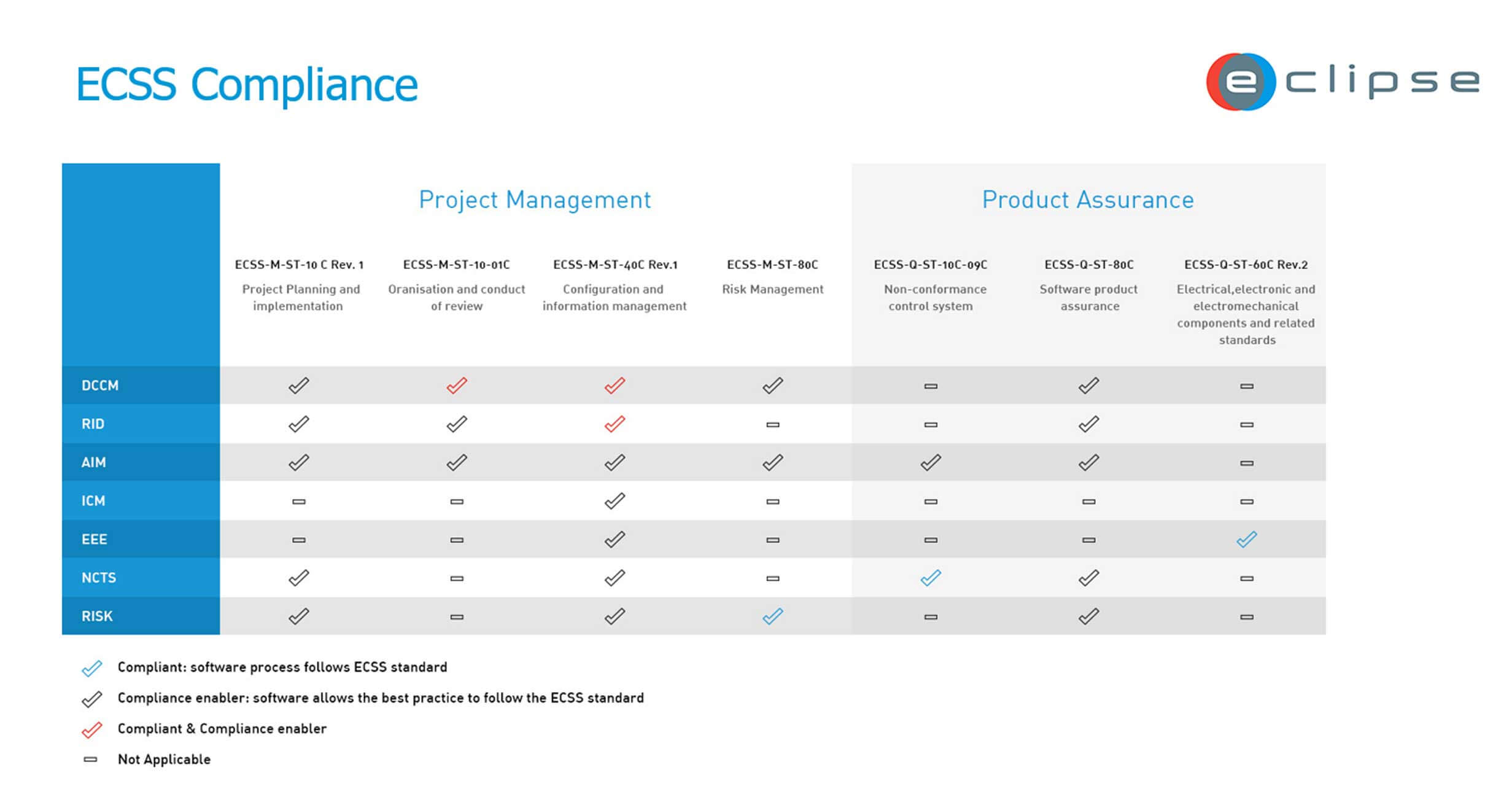 The ECLIPSE Software Suite has a package tailored for ECSS Compliance
Discover more about its benefits and features
Benefits of using ECLIPSE Software Suite
Our clients find that using the ECLIPSE Software Suite helps them improve the quality and reliability of their space systems while also reducing development time and costs. Other benefits include:
Reduced risk of errors and enhanced safety
Increased efficiency and productivity
Improved communication and collaboration
Greater customer satisfaction
High level of customisation to own process
Enhanced collaboration between team members
Easier sharing of content and files
Better organisation and management of content
Centralised control in one system
A fast overview of the project and its elements
This way, using the ECLIPSE Suite is a way to deal with ECSS Standards and enables to uphold a higher quality of work.
Contact us for a free demo of ECLIPSE Suite
If you are looking for a software solution to help you meet ECSS compliance, please get in touch with us for a free demo of the ECLIPSE Software Suite, or look at our ECSS Compliance Solution for more information. We would be happy to show you how our software can help you improve the quality and reliability of your space systems while reducing development time and costs.
Written by Desmond Gardeslen